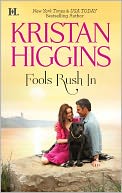 Fools Rush In
was the last book of a run of Kristan Higgins books I checked out from the library. I think they still have one or two more I have yet to read, but I needed a break first!
Millie, the heroine of this book, has had a crush on Joe since she was just a kid, but he has no idea she exists, so once she completes her doctor's degree, she returns home determined to make him notice her. She loses weight, buys new clothes, and even gets a dog.
Of course, as you might imagine would happen, it turns out Joe isn't anything like how she'd built him up to be in her mind. And it turns out that the man who really
is
everything she's ever dreamed of is closer than she realized.
Like many of Kristan Higgins's books,
Fools Rush In
challenges generally accepted ideas of romance, especially of romance
novels
. The hero in this book is much older than Millie, and was previously married to (gulp) her perfect older sister. As you can imagine, this makes for some awkward moments when they realize how they feel about one another — and when they finally get together!
But a trend that I'm starting to recognize in Higgins's books, and one I really like, is that the love she writes about isn't (usually) based on lust. In
The Next Best Thing
and
Just One of the Guys
, two other books of hers that I read recently, the love interest was always someone the heroine didn't expect — because he was her best friend. Higgins's books are romance novels that are about
healthy
relationships...
and
they're wonderfully entertaining. Amazing! It
is
possible!