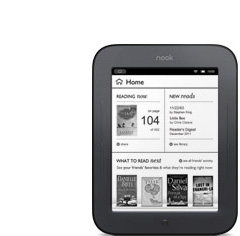 I logged on to the Barnes & Noble site today to see a fantastic deal broadcast across the top of the page: If you subscribe to the
New York Times
($19.99 a month), you can get the Nook Simple Touch Reader for free, or the Nook Color for half off ($99 instead of $199).
I'm not a big fan of paying for newspaper subscriptions when you can get it all online, but of course the
NYT
is limiting access to the website for non-subscribers now. In any case, if you were planning on subscribing anyway, you might as well do it through B&N and get a free or steeply discounted Nook!