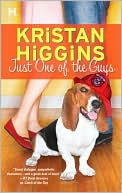 Out of all the Kristan Higgins books I've read thus far, I think this one might have been my favorite — primarily because I felt I could most relate to this character's tomboyish nature. It wasn't quite as funny as the other two I've read,
Too Good to be True
and
The Next Best Thing
, both of which were hysterically funny at times, though it was still good for quite a few laugh-out-loud moments — I don't normally laugh aloud when I'm reading, so I find it amazing when a book is able to get me to!
The heroine of
Just One of the Guys
, Chastity O'Neill, is a journalist (something else I can relate to) in a family of firefighters and first responders. For years she's been in love with a family friend, a guy who's been treated like just another of her brothers since she was a kid, but she thinks he only sees her as one of the guys. She decides to start dating, and (after racking him in a self-defense class) quickly lands a serious relationship with a doctor. But she can't shake how much she loves Trevor.
In another Kristan Higgins book I recently started, she mentions in a letter to her readers that she really enjoys writing about family. This explains something that I'd only started to notice — that family plays a big role in every one of her books.
I also really like how every one of her books is different. Sometimes the heroine ends up with the boy next door, sometimes it's someone completely different (and the boy she's been in love with since childhood turns out not to be the one for her after all). The only constant is that it's always someone the heroine thinks is the least likely candidate for her. In
Just One of the Guys
, for example, she'd loved Trevor since she was a kid, but she didn't think he felt anything other than friendship for her.
These books are different from the usual romance — they are told in first person, from the point of view of witty, and typically flawed, heroines. They poke fun at the things we women do for the sake of love and life in general, and of course there is always the element of family in Higgins's books. These are the kind of romance novels I would recommend to people who don't usually read romance, because they are the kind you can feel good about reading, instead of feeling like you've lost a few brain cells in the process!