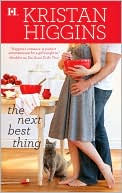 This was one of the books I read last week, during my week off between Christmas and New Year's. It was also the first time in a long while that I stayed up extra-late to finish a book. Not having any obligations (or at least a clock to punch) the next day, I finished the book at 4am on the nose.
You may remember that I read another Kristan Higgins book,
Too Good to Be True
, back in April. I love Higgins's funny narrative style — I often laughed out loud while reading
Too Good to Be True
, and found the same true of this book.
The Next Best Thing
is about a family whose women are always widowed young and never remarry. Lucy, the heroine, was widowed more than four years ago after only 8 months of marriage (and no children). The birth of her niece makes her decide to break with family tradition and find a new husband, so that she can have kids someday too.
The awkward thing is that she's been sleeping with her deceased husband's little brother for the past couple of years. Despite her feelings for him, Lucy decides that she is better of marrying someone she won't love
too
much, to avoid the heartache of losing another husband should the family's curse hit her a second time.
One thing I thought of while reading
The Next Best Thing
is how Kristan Higgins manages to take deeply flawed characters and make them funny, rather than annoying. As annoyed as I got with the insecurity of Kelsey, the heroine (and I use that word loosely) of
Tiger's Curse
, you'd think I just didn't like flawed characters. But I loved Lucy and her crazy family, despite Lucy's downright neurotic fear of losing another man she loves.