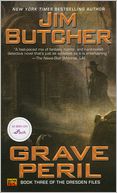 Once again, I fell behind on my reviews. The problem is that I'm enjoying reading so much lately — I've been blazing through books one after another, and with less time available for various things these days, that has meant less time to blog.
The solution: I'm going to do fairly quick reviews on everything in order to get caught up. Once I'm caught up, I will need to assess my time constraints, and may continue doing shorter reviews than usual when there isn't time for longer ones.
I read
Grave Peril
weeks ago — to give you an idea of how long ago, our monthly book club is coming up this Thursday, and
Grave Peril
was January's book! This is the third book in Jim Butcher's Dresden series; our book club read the first two books,
Storm Front
and
Fool Moon
, last summer.
I liked
Grave Peril
just as well as the first two — like them, it was fast-paced and fun, with a bit of flip humor here and there. In this book, Dresden is hunting ghosts, which are suddenly popping up all over the place. When he realizes the sudden influx of ghost activity is not coincidental, he has to try to figure out who (or what) is behind it. I don't want to give anything away, but as we agreed in the book club, the ending really makes this book! It's a
big
ending, you might say.
This book also introduced some new characters that will supposedly be in future books as well. I'm looking forward to reading more about them! I don't know if our book club will read another of the Dresden books — I think we've already chosen our books for the entire year — but if it looks like we won't, I might continue the series on my own.